1977
Tony began his 40-year study of success principles to share with others.
1979
Took over family business and learned the magic of "serving people."
1980's
Made and lost millions, "Living in the Black" and "Living in the Red."
1982
Very first coaching opportunity working with Don Hall, Hallmark Cards.
1991–96
Helped turn around Chrysler from the "Last Hope" to "Most Admired Co. in America" front cover of Forbes.
1990's
High Performance Resources — branch offices opened in China, Detroit and L.A.
1995
Began coaching the president of Ford, + $1 million commission to take top executives into a High Performing Team.
1996
Lee Scott, Walmart chairman, reaches out and Tony becomes Sam's Club President's Coach.
1997
Tony starts coaching the President of the world's largest company, Walmart.
1999
The private Strategic Acceleration Studio is built on Tony's estate in DFW.
2000
Success Acceleration launches as an extensions of Designing Your Own Life methodology.
2004
Tony's Best Seller endorsed by Shark Tank®, Life Is a Series of Presentations, is published with Simon & Schuster.
2006
The launch of Strategic Acceleration – the TJI base formula of clarity, focus and execution.
2007
Tony Jeary – The RESULTS Guy™ is born and Strategic Acceleration, the RESULTS Faster brand, takes hold.
2007–Present
All size companies adopt Strategic Acceleration – Clarity, Focus & Execution.
2012
Tony Jeary coins a coin – The RESULTS Coin.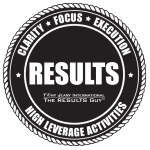 2013
Tony's 40th book, Business Ground Rules: 100 Lessons for Success, is published.
2014
The "Change Your Thinking, Change Your Results" methodology was born.
2015
Advice Matters published to share the importance of having coaches and mentors in your life.
2016
Tony Jeary and SUCCESS Academy partner to release the RESULTS Faster! course.
2018
Tony publishes Book of Books, highlights of his first 50 books.
2019
TJI team up with Dallas investor Jack Furst to open the world's best think tank for hosting powerful meeting experiences called the RESULTS Center.