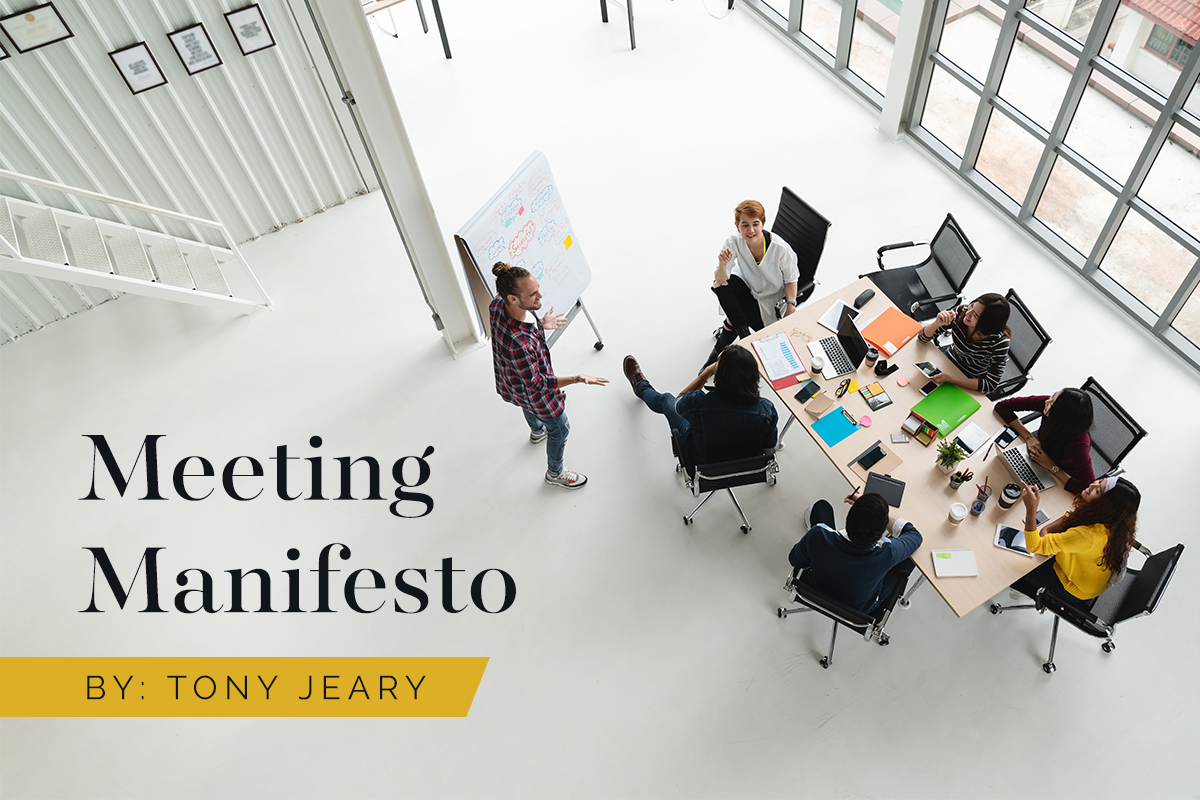 I can't even count how many meetings I've been in over the years, and I'm sure you can't either. Meetings are necessary, but sometimes they are a waste of time, especially if you get in the habit of making the same meeting mistakes over and over.
After analyzing my own team's meetings and the meetings run by some of the world's highest achievers, I've nailed down nine meeting mistakes you and your team should watch out for. If you want to supercharge your meetings and make them timely and purposeful, don't make these mistakes …
9 Meeting Mistakes
Thinking "objectives" and "agenda" are the same. Objectives start with an action word and are the things that should be accomplished in the meeting. The agenda is a fluid set of topics to help guide the group to reach the objectives.
Lack of preparation. Obtain mental buy-in from participants by sending out a proper invitation, doing research upfront, and asking attendees to bring the right material.
Wrong attendees. Invite the right number of people (no more than are needed to accomplish the objectives) and make sure the right people are represented in person or by phone/computer.
Poor notetaking. Taking notes by hand is a minimal requirement; taking notes on the computer is better; and using a notetaking matrix live, on-screen, in real-time is the best.
Wrong facilitator. Using no facilitator or one that's not exceptional costs morale and synergy—and hence results. The best facilitator has SME (subject matter expertise), tools, and a team.
Wrong venue (meeting onsite or at the wrong site). It's best to pick the best, most inspiring, most easily accessible meeting venue that has the right technology and an environment that supports your objectives and inspires breakout sessions.
Expectations not clear. Start defining your expectations early, refine as you build, and reconfirm them to start the meeting.
Not gaining buy-in so everyone supports. Don't talk at people; it's better to talk with people, and it's even better to facilitate the meeting where everyone supports the overall win—not just the top person.
Action assignments are not clear. Many meetings have fuzzy or even no written action assignments. It's best to make a list everyone can see as the meeting moves along, including who is responsible and when the action is expected.
Don't Have Boring Meetings
Now, my final point … but maybe the best one. Don't have boring meetings!
Smile, laugh, and encourage fun so everyone thinks better, stays engaged, and enjoys the experience. Just because the topic you must cover is difficult or bland, doesn't mean you can't bring life to the meeting through the way you facilitate (point #5) or your venue (point #6). Also, when you prepare (point #2), you can find ways to engage everyone in the meeting. You know what I say, think strategically about everything. That includes your meetings.
Schedule a Discovery Call Today
If you are looking to synergize your team and get RESULTS faster, schedule a discover call with us to see how we can help your business exceed its goals. Whether you are looking to grow, enter a new market, revamp your brand, let's get connected and see how your company can get to the next level.