Supercharge and Accelerate Your Thinking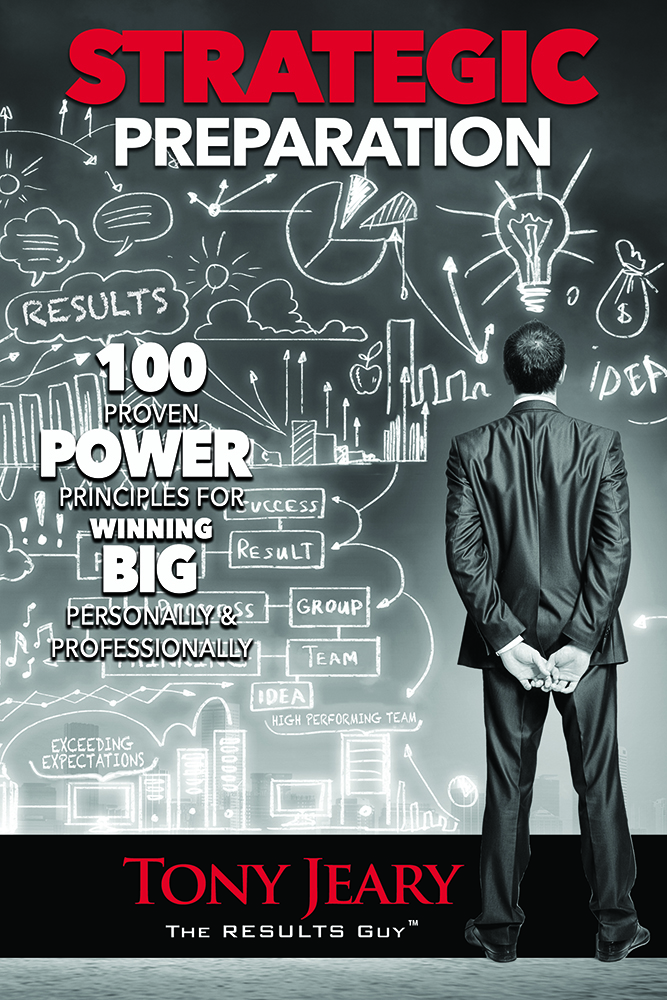 As a high achiever, you know preparation is paramount in achieving meaningful results and supporting real success. We're convinced that most people don't prepare to the level they could, so they don't often end up with the results they'd like to have.
We believe preparation is a significant overlooked factor in achieving long-term success and getting better, faster results.
1. Thinking Ahead
Strategic preparation begins with gaining clarity around your objectives. Sometimes you may think you have clarity when, in reality, you haven't put much strategic thought into it at all. You haven't asked yourself, What do I truly want and why do I want it?

Being clear at the outset will have a huge impact as you work to reach your goals and realize your vision. Your personal goals should include what you want to have. They should also include what you want to share, what you want to experience, what you want to give, and, perhaps most importantly, what you want to become. Your business goals should be aligned, incorporated, and part of a strategic plan (We specialize in helping make these plans in a single day at the RESULTS Center). 

 2. Compiling Resources & Tools
Having the right tools at the right time can make a world of difference in preparing for your success. Building and keeping  an arsenal of tools helps you present your messaging. It helps you and your team execute faster and makes you more powerful as a leader. When you have tools, you're taking an approach that can be leveraged. You don't have to recreate the wheel each time you want to do something.

Bottom line is: build an arsenal of best practices, templates, samples, examples, photos, models, etc. TJI has been doing this intentionally for over 30 years and have assembled a treasure chest of deployable tools we utilize with our clients every day. Perhaps you should as well.
The more robust your arsenal, the better equipped you will be to respond to every situation.
3. Players
Prepare for future needs by building and nourishing a powerful and committed Life Team—people who help you extend your ability to think smarter, get things done, make better decisions, and do life well. 

Surrounding yourself with a hand-picked group of smart, talented individuals who have specific areas of expertise to leverage on your behalf is one of the best ways to prepare well for the future.



Be intentional about:
Assembling a great team of peopleListing them on your phone for easy access
Constantly nourishing and appreciating them by helping whenever you canThis includes the right coach,
lawyer, banker, CPA, financial advisor etc. (See our book RESULTS Faster!: Lesson 20) 

4. Mental Preparation
Mental preparation, or future pacing, makes it easier for you to take small steps leading up to your future vision. Suppose you have already thought about the future idea becoming a reality. In that case, it's relatively easy for you to take the first steps and gain inertia toward your cause. Since the body and mind form one system, preparing primes the body for the actual situation.

 5. Potential Roadblocks and What Ifs
Get clear on potential "stoppers," and make sure (with the proper preparation), they don't happen. When preparing for any event, ask yourself, What could happen? What could happen when you're making a presentation or leading an important meeting with a client? What are the potential roadblocks?

If you have a team, brainstorm with your team members about what could happen ahead, and resolve any roadblocks in advance. The more you prepare smartly, the more you ensure any obstacles or roadblocks don't get in your way.
 
6. Verify and Confirm
Finally, having a backup for everything ensures you're ahead of the game instead of scrambling when something unforeseen happens. 

Always have a plan B.



Let us know how we can help you next!

Please 

email us

 directly and receive a free copy of Strategic Preparation.