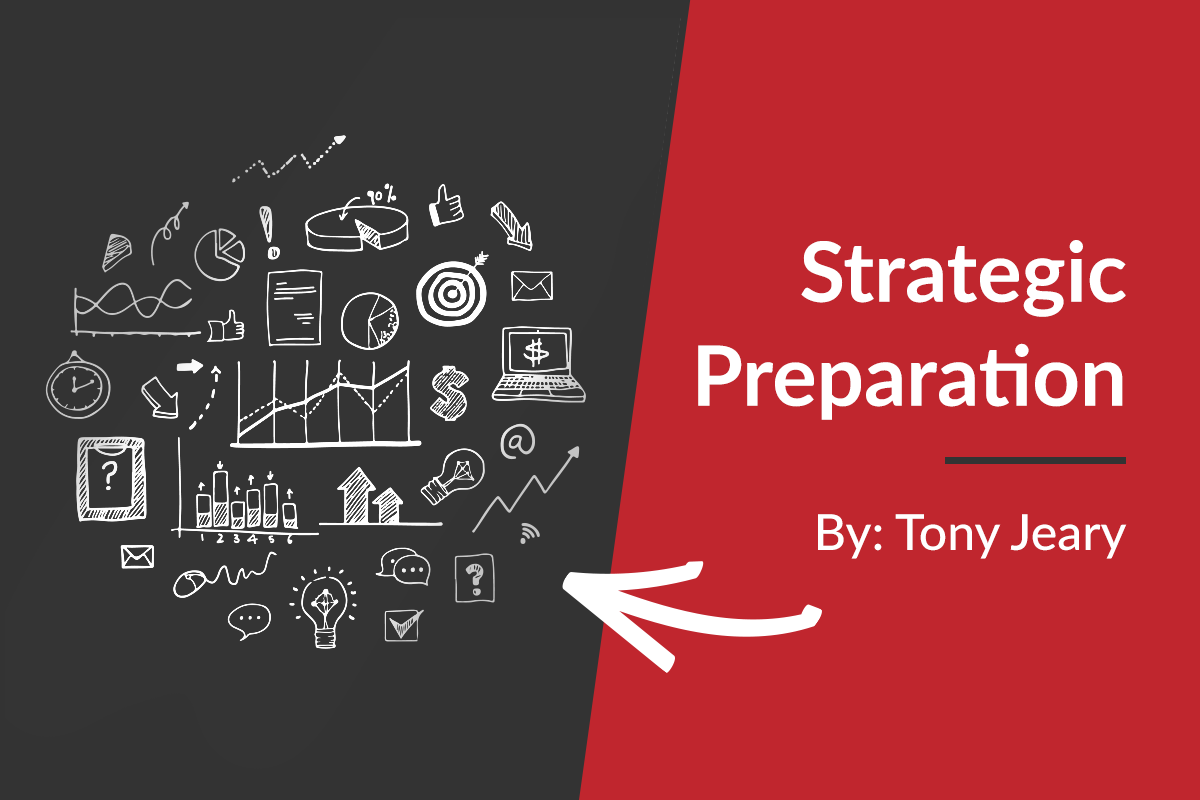 "By failing to prepare, you are preparing to fail." — Benjamin Franklin
How well do you prepare? Do you think you can take your preparation to the next level? If so, I have some quick tips that will help you get there.
Most people don't prepare to the level they could. Therefore, they don't end up with the results they want. We believe preparation is a hugely overlooked factor in achieving success and getting better and faster results.
Preparation Pays!
Preparation involves thinking, which is one of the most powerful secrets we share with our clients. It all starts with how you think. The key is to think more … and more strategically.
One particularly critical aspect of thinking that we teach our clients is finding the balance between preparing for the future and getting things done now. This takes some practice because delayed gratification is a discipline. You want to be a visionary, but in order to attain your vision, you have to put the work in now.
Delayed gratification is such an effective concept because it encompasses so many angles.
For example, long-term thinking. This means putting in the effort upfront, like doing Favors in Advance, which nourishes relationships that yield amazing results down the line.
Below are a few powerful tips from my newest book coming out called Strategic Preparation that will hopefully help you think more strategically:
Clarity


Start with clarity about your vision, goals, values, purpose and standards. Create a written plan and MOLO (more of less of) your life often. What do you want more of and what do you want less of?

Focus


Sharpen and maintain your focus. Eliminate distractions and focus on results vs. activities. Activities such as daily tasks can get in the way of getting real results. Learn to delegate so you can stay focused.

Execution


Be intentional. Dwell on solutions, communicate your vision, measure everything, execute with speed and use powerful self-talk.

Time Mindset


Manage your time by saying "no" often. Create

Elegant Solutions

and

prioritize hourly

. Have a "do-it-now" attitude.

Thinking


Value daily thinking time. Get a great coach and/or mentor to help you discover your

Blind Spots

.

You become what you think about.
Relationships


Rich relationships = rich life. Surround yourself with a powerful

Life Team

and positive, successful people. Nourish your relationships and do

Favors in Advance

.

Communication


Have great meetings with clear objectives, clear preparation and an aligned agenda. Be ready for the tough questions and become proficient in the strategic asset of

Presentation Mastery™

.

Being Ready


Have a mindset that says, I will always prep and be ready ahead of time. Be consistently organized and

have backups for everything

. Plan for the what-ifs, be presentation-ready and know your risk factor.

Investing for Your Future


Get advice that will help you uncover your

Blind Spots

. Strategically build your personal brand and develop a memorable, influential persona. Plant seeds, invest in your future and

reward yourself often

.

Health


Get clear on who you want to become. Get good professional advice, and then build your health goals and actions around that vision. Control your diet, find the right exercises for you and manage stress.

Arsenal


Keep an arsenal of tools to give you leverage for presenting your message, executing faster and adding value.

Exceed expectations by planning your arsenal ahead.
Force Multipliers


Utilize your phone to create leverage and multiply your results. Use Dropbox or another online system to hold and backup your files. Take strategic notes and use checklists to maximize results.

Habits


Notice patterns and turn them into the right habits.

Think like successful people think and do what successful people do.

Execute to the point of habit and strategically move things into the automatic zone. Strategically create foundational habits.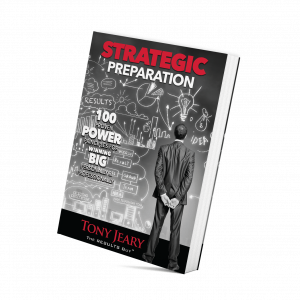 Hopefully, a few of these tips pushed your thinking today so you can strategically prepare down the road. Share these tips with your team so you can all be on the same page … continually improving your thinking, which will lead to faster results.

You can download my newest book Strategic Preparation as an eBook by clicking HERE or by clicking the button below.
Let me leave you with a quote …
I'm convinced after working for decades with many of the world's best that 'preparation' stands as its own category in supporting success." — Tony Jeary