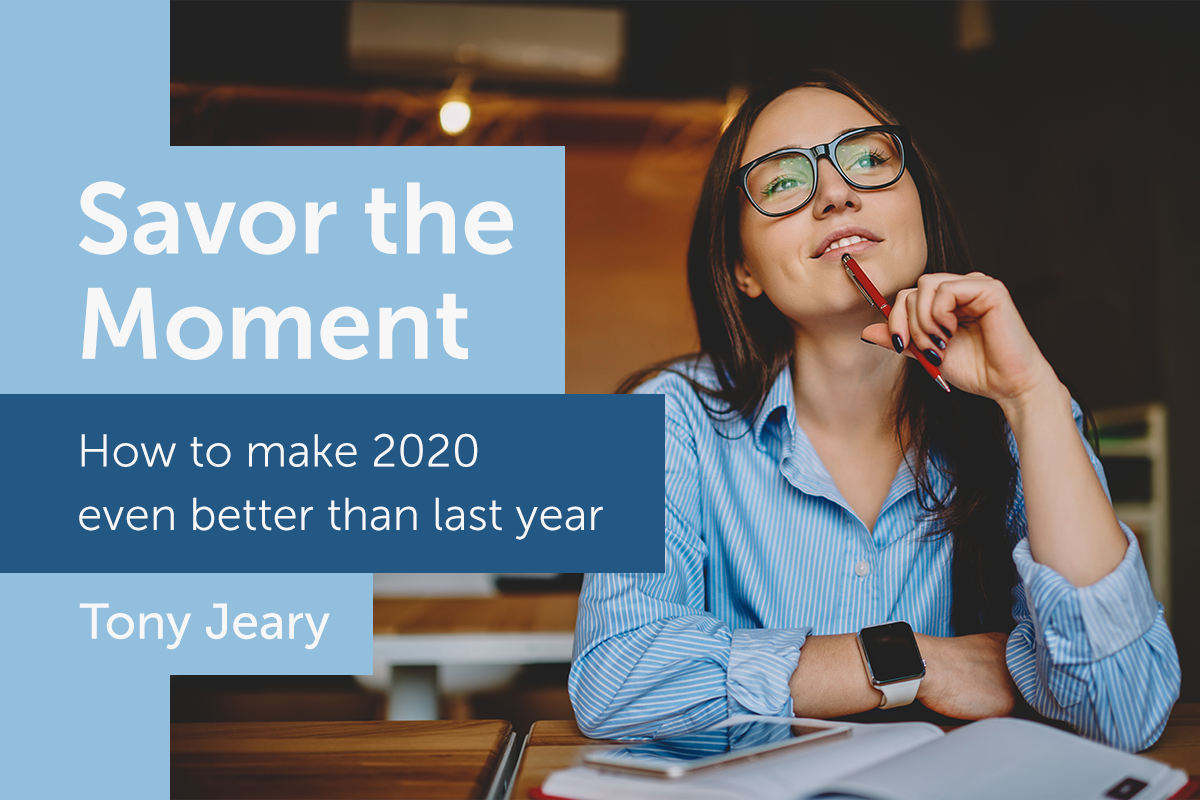 At the end of last year, I was invited to Scottsdale, AZ to be a guest speaker for my friend Tony Martinez and his business partner Sean Higgins. Tony and I visited both on stage and afterward about how to make 2020 even better than the year before. The main thing we concluded was to have more Great Experiences, which is why I wanted to name this article Savor the Moment. 
How many hours are in a week?
One of the top principles I write and teach on is being efficient with your time because time is so valuable, which we all know. I often ask audiences around the world if they know how many hours are in a week without doing quick math in their head and calculating the answer. Only about 1 out of 20 can answer this question. I'm always so intrigued to learn how many people go through life never realizing or being fully aware of how many hours they have in just 1 week. 
We have 168 hours every week. If you subtract 56 hours for sleep and 12 hours for maintenance, you are left with 100 hours. How you invest these 100 hours can really impact the life you live. In your 100 hours, I want to encourage you to Savor the Moment. 
Reflect on 2019 for 1 Minute
I want you to take about 1 minute to reflect on this question:
Did you savor the moment in 2019 and create experiences?"
Or did you just rush through the year trying to get more things done on your to-do list? For 1 minute, put down your phone, shut your laptop or whatever device you are reading this article on and really ponder this question.
As you reflect, write down all the moments you really savored. Are you content with the number of experiences you wrote down? If not, 2020 is the perfect time to turn on this new mode of thinking. 
Plan Out Experiences
If this concept seems daunting, start by planning out some experiences you can have in 2020. This list can be for personal or professional experiences. It might include a vacation or a few for that matter, running a half marathon, starting a business, opening a second or third location of your business, or seeing a favorite artist in concert.
While it might seem like big experiences are the only monumental ones, don't get caught up in this lie. List out small experiences too. For example, it could be researching and buying a new board game to play with your family over and over where you get to create multiple great experiences at home during the year. This could turn into a family tradition.
For example, a few years ago, my two girls planned out a tournament full of simple games we could all play (no matter the age) on Christmas Eve. We invited friends and in-laws and grandparents over to come play with us. The tournament lasted a few hours, and there was so much laughter—everyone could participate in every activity. We loved the evening so much, we continued it the next year. I guarantee everyone who joined us that night remembered this as one of their great experiences that year. 
Let's make 2020 the best year ever … plan for the best experiences of your life and when you are there, savor the moment by doing a few of these things listed below.
Breathe

Take a picture

Have gratitude

Appreciate a scene

Listen to a great song (to help you remember the experience in the future)

Stretch

Share your experience