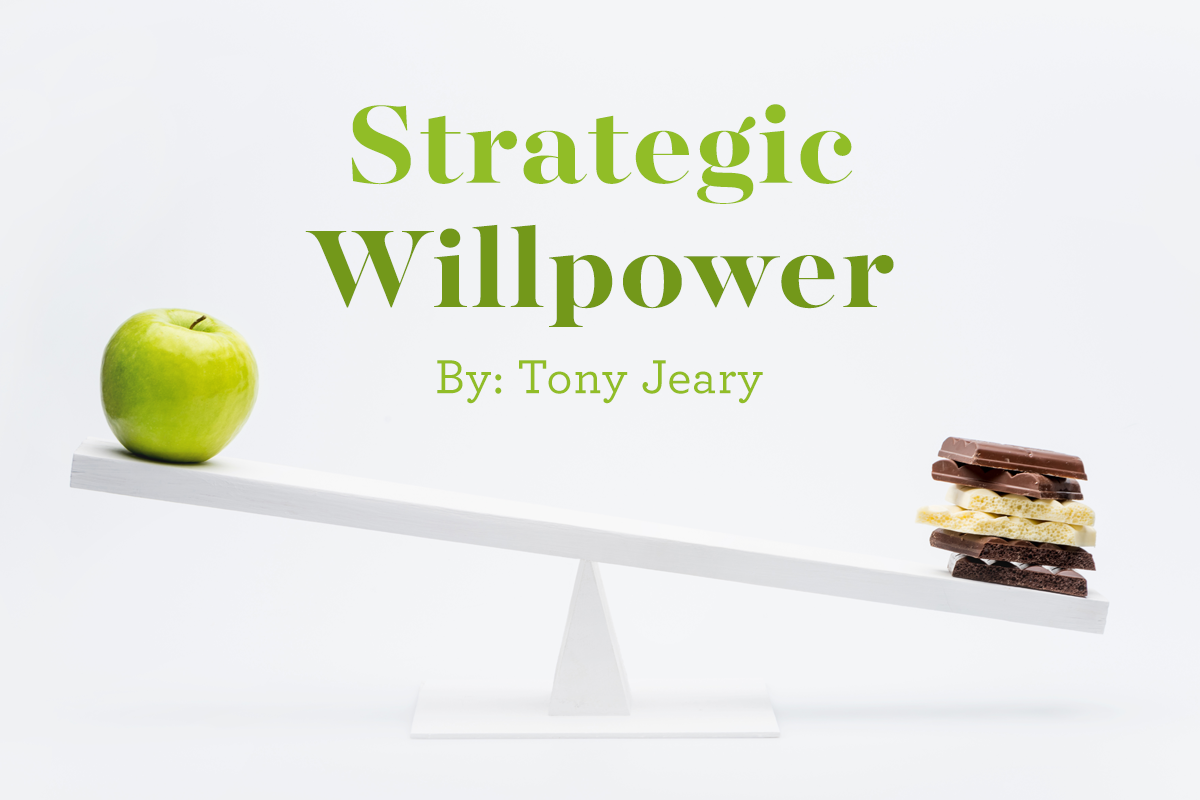 Willpower is two-sided. One side is about overcoming any natural impulses you might want to avoid. In essence, it's the ability to resist short-term temptations in order to meet long-term goals. The other side is having the will or motivation to do things when you might not want to, when you don't feel like it, or even when the benefits are way out into the future.
Why is Strategic Willpower Important?
Research shows that people with stronger willpower are better off in almost every aspect of life. They are happier and healthier. They have more satisfying and long-lasting relationships. They are more successful and make more money. And they even live longer. In a nutshell, if you want to improve your life, your willpower is a good place to start.
The two sides of willpower, then, can be called defense and offense. Defense is not doing or avoiding something, and offense is taking action, often way in advance. In other words, defense avoids, denies, and stops doing, and offense involves a pulling power to do or inspiration to act.
10 Things to Remember About Willpower:
Short-Term and Long-Term Clarity.
It ensures you gain real clarity of what you want, both short and long-term (i.e., that you identify your goals and avoid conflicting goals and conflicting values).
Understand Your Whys.
It helps you to get a deep understanding of your whys.
Willpower Decreases by the Hour.
Your willpower goes down as the day progresses, so when possible, schedule and make decisions accordingly. (Note: Drinking a glass of wine at the end of the day will take your willpower down even another notch. For many, this is often a downfall that can lead to things like unhealthy eating.)
Decision (or Mental) Fatigue.
We tend to make worse decisions when we suffer from decision/mental fatigue (making decisions all day). This plays out daily for many people when they come home exhausted from work, for example, they may find themselves bickering with their spouse instead of finding compromises.
Willpower Depletion.
To avoid keeping yourself in a constant state of willpower depletion, take breaks, wash your face, eat smartly, call a loved one, appreciate someone, or thank God for the things you're grateful for.
Avoid Temptations.
Avoid temptation; self-control starts with knowing what you cherish (your values). Remember, your goals should align with your values and your actions should support your goals.
Don't Forget About the Long-Term…
Ensure you're doing enough long-term thinking. When you're too focused on the present moment, you can often make bad decisions with long-term consequences.
Build Good Habits.
Build good habits, which can actually serve as guardrails. You often need them when you're stressed and your willpower is low.
Word Choices.
Make good word choices, such as deciding to say "yes" and "no" rather than "yeah" and "nope." Stronger words can strengthen your willpower and add to your resolve.
Take a Timeout.
Choose to delay some decisions, like taking some time to cool off and think about an emotional purchase that isn't in your budget.
Concluding Thoughts
"I

won'

t" power is the ability to say no even when your whole body wants to say yes.
"I

will

" power is the ability to do what you dislike now so you can have a better future.
The "I

want

to factor" is the ability to remember what you truly want. Know what is best for you in the long term—despite present temptations, conditions, or state of mind.