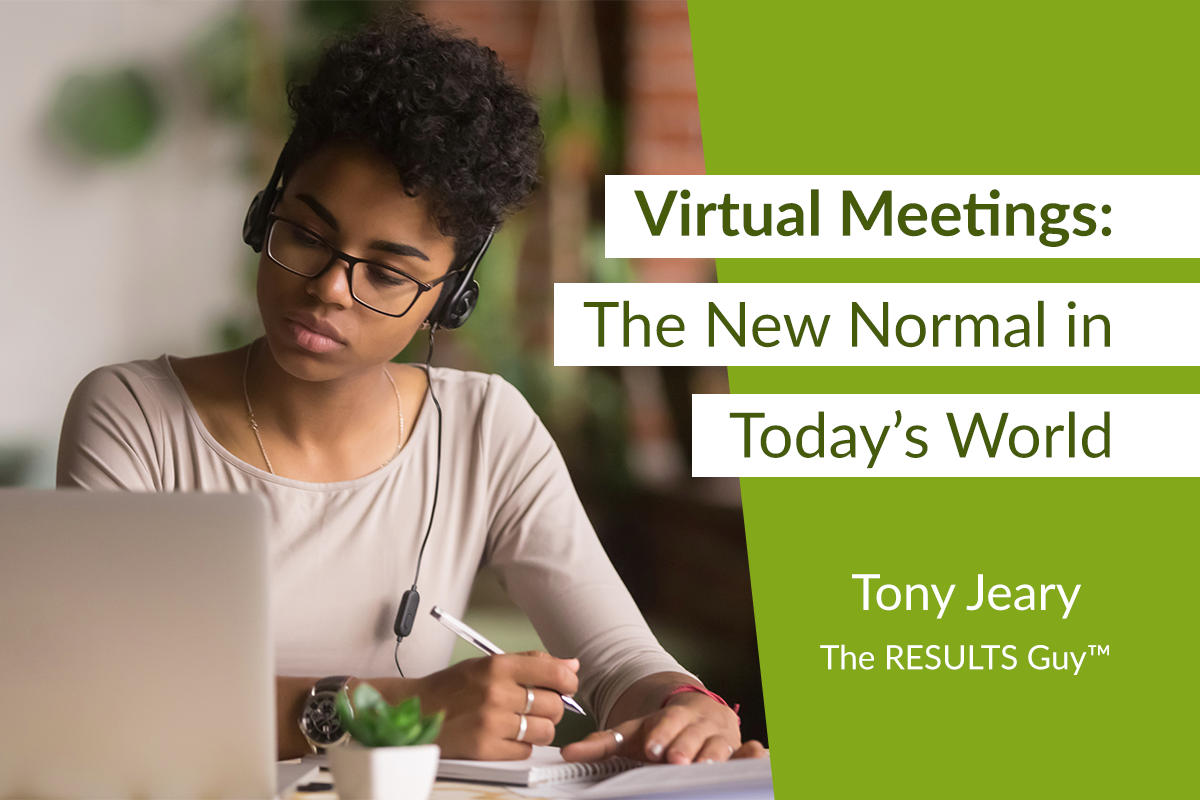 Interesting times. Wow! How do we keep moving and winning?
Let's talk meetings for a minute. Meetings are crucial to an organization's success. With the COVID-19 virus and the recommendations to limit group gatherings, meetings will look very different over the next few weeks or months, which means virtual meetings are a must now. Thankfully there are plenty of programs out there already that allow you to do just this like Zoom, GoToMeeting, Google Hangouts, VirBELA, etc. This will become a vital part of how we all operate.
Our team has been holding virtual meetings for years, and now is the time for us all to step up our strategy behind them. 
Virtual Meetings Keep Us Connected
We believe this is a time to stay connected, to build better relationships as we face fears and to keep everyone motivated with positive thoughts. Scientifically, the more we dwell on negativity, the harder it is for our brains to expand our thinking to focus on solutions. 
With all of these points in mind, we recommend utilizing virtual meetings (more on the different types of virtual meetings below), so we can still see each other and have voice contact. It also allows us to work more efficiently as opposed to only communicating over email or text. 
This medium still brings everyone together and keeps us united. Good communication is the best way to prevent fear of the unknown.
Prepare for When Life Goes Back to Normal
During this time, it's still important to educate, train, motivate and inspire our teams to improve their personal performance. Once our routines start going back to normal, competition will be as fierce as ever. Yearly goals will still need to be achieved, so we must be ready to hit the ground running with strategies in place. 
As we navigate these waters together, Tony Jeary International can support you and your team.
Here are a few of the ways we can help you conduct virtual meetings:
Web Conference Calls
For smaller groups (5-10), we can facilitate a call for your team where we set up a detailed agenda with specific objectives to support your outcomes. 
During this call, we will use live note-taking in order to capture all of the important content from the call, along with follow-up actions that need to be monitored for completion following the call. The notes are then emailed to everyone on the call.
Online Workshops and Seminars
For smaller or larger groups, we can facilitate workshops and seminars online using a similar set up to the web conference call mentioned above. 
Before the workshop/seminar, we will prepare your team ahead of time by providing pre-reads (sending out hardcopy or digital books) and any documents/reports required to be completed ahead of time, so we can all be well prepared for an efficient online meeting. 
These calls allow for attendee participation (same as in-person), and we can stay ahead of the curve by focusing on training and education during this period where our customer contact may have to be limited. We have twenty powerful topics ready to go, including …
Sales

Time Management

High Leverage Activities

Activity vs. Productivity

Leading Through Change

(our personal favorite)
Livestream Keynotes
These can take on a whole new purpose right now. Using a livestream feature for a keynote can keep your team motivated and inspired to continue to do their best, to think of new ways to interact with clients, and to continue to forge ahead and prepare for the future dates when things will move to a new normal, because there will be changes coming, and they will come fast.
Keep your team up to speed, and let us help you keep them motivated. We can handle your invites/responses if needed and provide pre-reads. If you are looking to provide value to your employees without them having to leave the safety of their personal environment, a virtual keynote is an excellent idea.
Train the Trainer
We can also work with a select group of people to train them on how to implement these types of virtual meetings within your own organization. You will learn the necessary skill sets, processes and procedures needed to create an effective and efficient online meeting. 
Let's discuss how we can keep you and your organization motivated and help you navigate this time of change. Phones are still a great way to connect, so give us a call at (817)-430-9422 to discuss! We are also available by email 24/7. Email Eloise Worden, our Client Relations/Business Development Director, at eloise@tonyjeary.com or call her directly at (940) 395-8746 to set up a meeting or to learn more about these options.