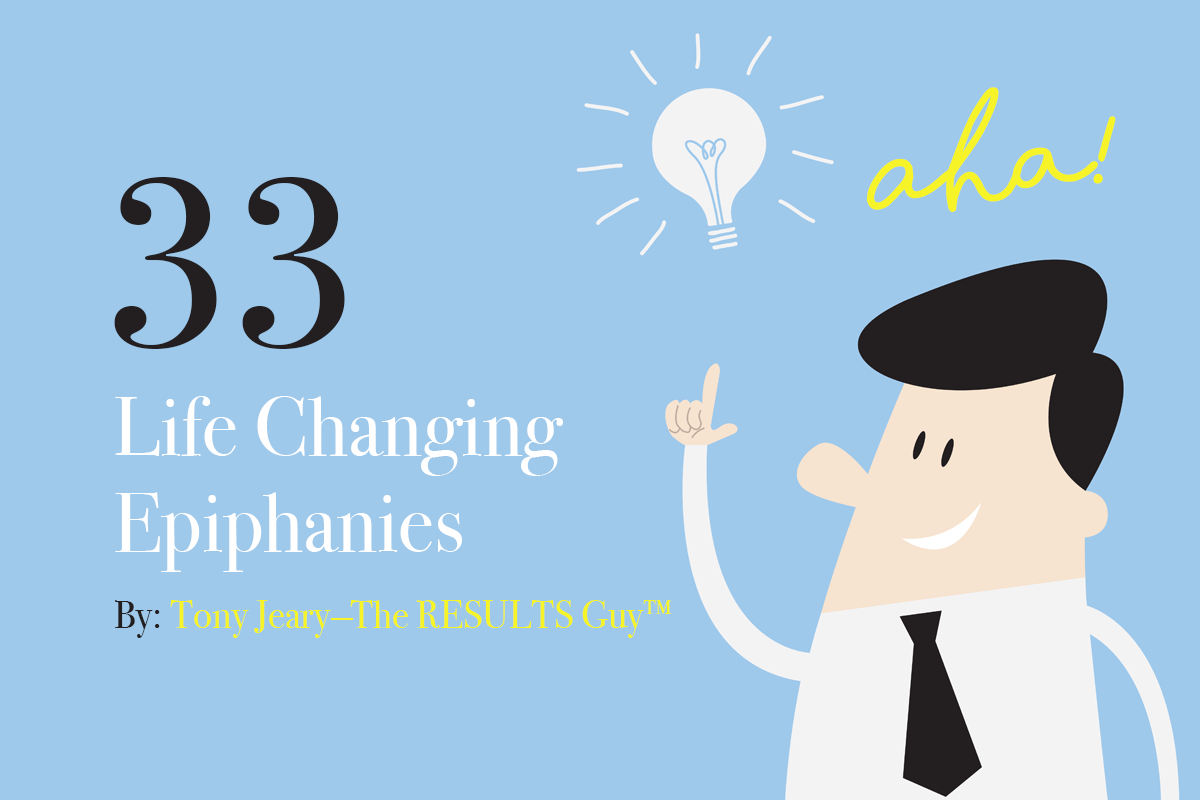 I've invested decades of my life helping high achievers get the right RESULTS faster.
One of the most effective ways you can get better RESULTS is by paying attention to "aha" moments, or epiphanies.
The right epiphanies can even transform your life. They help you think and do things better, period.
I've authored over fifty books, produced hundreds of videos, and published hundreds of courses, each with the goal of positively impacting lives. Impacting lives is a gift, and I get to do it every day of my life, both in person and through my work.
I invest a significant amount of time studying, shaping, organizing and formulating these works around concepts to help people think. The real wins are when I produce epiphanies for the people I partner with.  
My Favorite 6 Epiphanies
I recently collected some of the most powerful epiphanies I've experienced in my life. My hope is that, by documenting these "aha moments," others can claim them as their own and enjoy life-changing RESULTS, too. "Aha! 33 Life-Changing Epiphanies," is my latest book, which you can download for free below. The book is broken down into six topics: strategy, time, excellence, tools, awareness and people. In this post, I want to share some of my favorite epiphanies with you from each of these six topics.
The Strangest Secret



Earl Nightingale, an American radio personality author during the 1950s, wrote a book called, "

The Strangest Secret

," which has been called one of the greatest motivational books of all time.

The secret? We become what we think about.

In his book, Nightingale claimed only five percent of people in the world achieve success simply because of the way they think. People who set goals succeed because they know where they are going. They have planted their goals in their mind.

Capacity Cap



We all have a limit to our capacity, and we get the best RESULTS when we recognize that cap and operate within it.



If you don't want to experience burnout, it's important to strategically manage your time, mental space and energy, as well as the types of things you take on—not only for yourself, but for others on your team as well. In fact, you'll get the best results when you leave room under that cap for margin time.

When I'm explaining this concept, I like to draw out a picture of a cup. If there's foam coming over the top of that cup, it's overfull. But if the cup is only 80 to 90 percent full, there's room to put more in it. Here's another reason you need to manage your capacity cap. If someone comes into your life who needs a favor or support, you'll have the capacity to do it.

Production Before Perfection (PBP)

Production before perfection helps you burst through procrastination. For some people, this can be the most important of all my time management concepts. Many people allow perfectionism to stop them from starting on a project.

It's often best to jump in and make things happen first, and then you can pursue perfection as you go. Of course, there are some exceptions. If you're building a helicopter, you don't want to send someone into the air unless it's pretty perfect.For most people, though, whatever they're doing doesn't have to be perfect. Get going and make it better as you go.

Roadblock Busting



We all experience roadblocks to reaching our goals, and yet

most people don't think ahead, identify potential roadblocks, and create a plan of action—using leverage—for preventing or circumventing the roadblocks.

Leverage can be tools, people, processes or even technology that will help you bust through roadblocks.

Belief Window



A Belief Window is an imaginary lens we all have that contains principles and truisms that filter how we see the world.

We begin forming those truisms and principles on our Belief Window right after birth, and we add to them those we accept and build our lives around as we get older. The principles on our Belief Window affect everything we see, hear, and experience, and consequently they affect the choices we make.

Unless you're operating your life with flawless principles, you're probably not achieving the level of success you could.

Faulty Principles = Faulty RESULTS

Accurate Principles = Better RESULTS

Life Team

Attract and nourish special people in your life who help you get things done and/or give you insights and advice. Creating a Life Time is an intentional and strategic approach to doing just that, which creates a force multiplier for your effectiveness.

A Life Team is a hand-selected group of people who have gifts and talents that complement your own so they can help you…
Uncover Blind Spots

Extend your ability to get things done

Enable you to do more of what you love
I hope these "aha" moments of mine have changed your thinking to help you achieve more intentional results. To read all 33 epiphanies, download my eBook by clicking the button below.