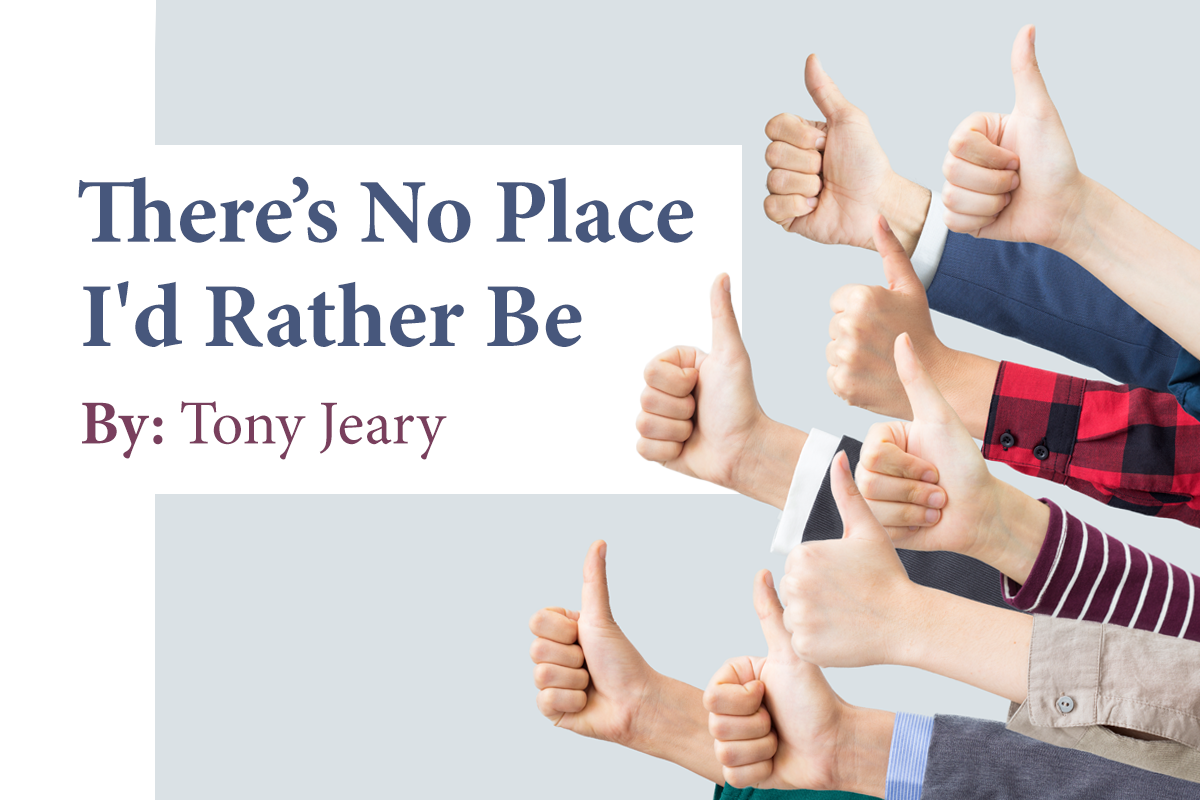 Right now, is there another place you'd rather be?
Any place you'd rather be with your career, finances, family, living situation, or your health?
If the answer is no, congratulations! You've found your sweet spot. However, if your answer is yes, I implore you to keep reading.
Live By a Mantra
 I like mantras. You know why? They keep you focused.
My business mantra is: Give Value. Do More Than Is Expected
My personal mantra is: Live Every Day Like It's A Weekend
Now create your own if you don't already have one or two. These should be statements you want to live/work by, similar to a business' mission statement. Virtually, every decision you make should be evaluated with your mantra in mind. If it doesn't align with your mantra, consider not doing it.
Here's a great example of how I live out my business mantra: 
When a client comes in from out of town, we don't just pick them up from the airport (something they might expect); we make sure to exceed their expectations.
We bring the RESULTS 1 Van, our customized Mercedes-Benz Sprinter Van full of beverages, phone chargers, WiFi and a welcome video to make sure clients have a smooth and relaxing ride over to our Strategic Acceleration Studio.
Is this necessary? No, yet it sure does bring value and extra inspiration. And that's our end goal.
How to Live a Life Doing What You Love
What percentage of the time are you doing EXACTLY what you want to be doing with EXACTLY who you want to be doing it with for EXACTLY as long as you want to be doing it?
Sure, there are times you have to make sacrifices, and there are times delayed gratification will pay off. However, the point of this question is to help you assess areas of your life that aren't aligned with everything you want.
And guess what? What you wanted yesterday may not be what you want today. What you want can (and probably should) change over time. So you have to constantly assess where you're at in life in relation to what you really want, hence clarity.
So how do you get there? How do you really live a life doing what you love?
5 Steps to Constantly Do What You Love
What do you really want?
Become really clear by asking yourself what you really love, what really inspires you and what kind of people you most enjoy being around. Now write those down so they're easy to access at a moment's notice.
Be intentional about your decisions.
Be open to spontaneous opportunities instead of getting stuck in the same ol' routine.
Check your filters.
What principles and values do you filter your decisions through? Are they accurate, updated and aligned with what you value? Are you seeing the world correctly? Is your Belief Window in line with what you want?
Constantly audit yourself.
In my book "Strategic Acceleration," we first introduced an exercise called MOLO where you ask yourself what you want more of and what you want less of in life. Give this exercise a try.
What motivates you?
What kind of experiences motivate you? This can be anything from taking vacations to hobbies to hearing success stories to spending time with your family to closing deals.
Bottom Line: Clarify your ideals, then shape your life around them.