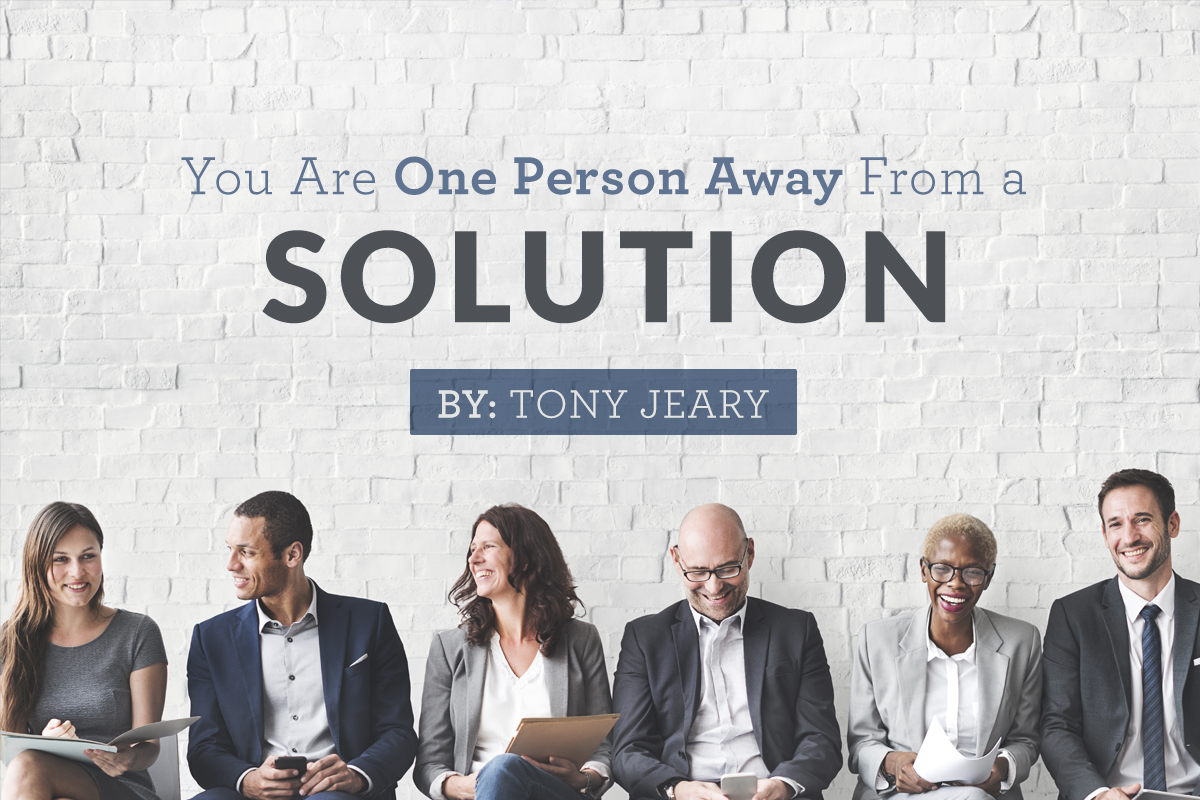 I just returned from a week in Canada working with several of our great clients up there.
While on my trip, I had dinner with a friend (Peter) whom I've also partnered with on several projects and co-written a book. He and I discussed the concept of solutions and, more specifically, solutions faster.
I like to be thought of as a "big solutions" provider. Perhaps you do as well. I'm always looking at how to be more resourceful, and I challenge my team to do the same. I like to be more resourceful for my firm and for myself as well as for my family and friends. Peter and I discussed one way to be more resourceful is to own the fact you are really just one person away from any solution. 

Six Degrees of Separation
Most people have heard of this concept, but let me remind you. There is a theory called Six Degrees of Separation which was proposed by Frigyes Karinthy in 1929. The theory says that each of us is just six introductions away from any other person on the planet. Any two strangers are, on average, distanced by precisely 6.6 degrees of separation.
You are one degree away from everyone you know, two degrees away from everyone they know and so on so that a chain of "a friend of a friend" statements can be made to connect any two people in a maximum of 6.6 steps. After checking 30 billion electronic messages among 180 million people in various countries, Microsoft researchers say the theory stands up in a world of 7 billion people.
One Degree Away from a Solution
I propose that today, for virtually every situation that may arise, you are as close as one degree away from your solution—not six.
For those of you who have known me for a while, you've probably heard me talk about my "Life Team." A Life Team is a group of special people who help you do life better because they have expertise, time, and/or resources that you do not have. Not only do they have expertise you may not have, they often have solutions to obstacles and problems.
While this letter is intended to focus on helping you see how close you are to faster solutions, gaining a better understanding of those people you're only separated from by one degree, and utilizing those people you already know intentionally is the most logical place to start in creating a more formal list of solution providers. Get to know those around you better. Make an inventory of their strengths and expertise. Changing your thinking in this way will also open your mind to new avenues of solution-solving as new issues arise.

Create a "Life Team"
I encourage you to think of people you know or who you are personally connected to (either personally or professionally) who can be solution providers. Some of these people are paid providers like CPAs, doctors, lawn maintenance staff, housekeepers, etc. Others may be friends and colleagues whom you have never really taken the time to inventory their skills and expertise to see how they can be helpful when situations arise.
To get you started, I've listed some areas below where you might need solutions. Start a list and add to it over time so you have immediate connections when the needs arise.
I've put in some categories below of potential needs. Add people's names to them in your own life from your list of connections.
Personal
Yard/Landscape professionals
Housekeeper
Errands (who do you know who has time on their hands who could use some extra money, e.g., a college intern)
Insurance Agent
Stylist
Personal Trainer (health)
Advice (mentors/coaches)
Spiritual (pastors, mentors)
Professional
IT professional
Attorney
Personal Assistant
Banker
Business Coach
CPA
How can we help you and your organization strategically focus more in a way that will lead to RESULTS Faster … perhaps a keynote experience or a session at our Strategic Acceleration Studio?
Let's discuss how we can work together. Schedule some time with our team today. Keep in touch and help us spread the word so we can positively impact as many people as possible. Contact us HERE.