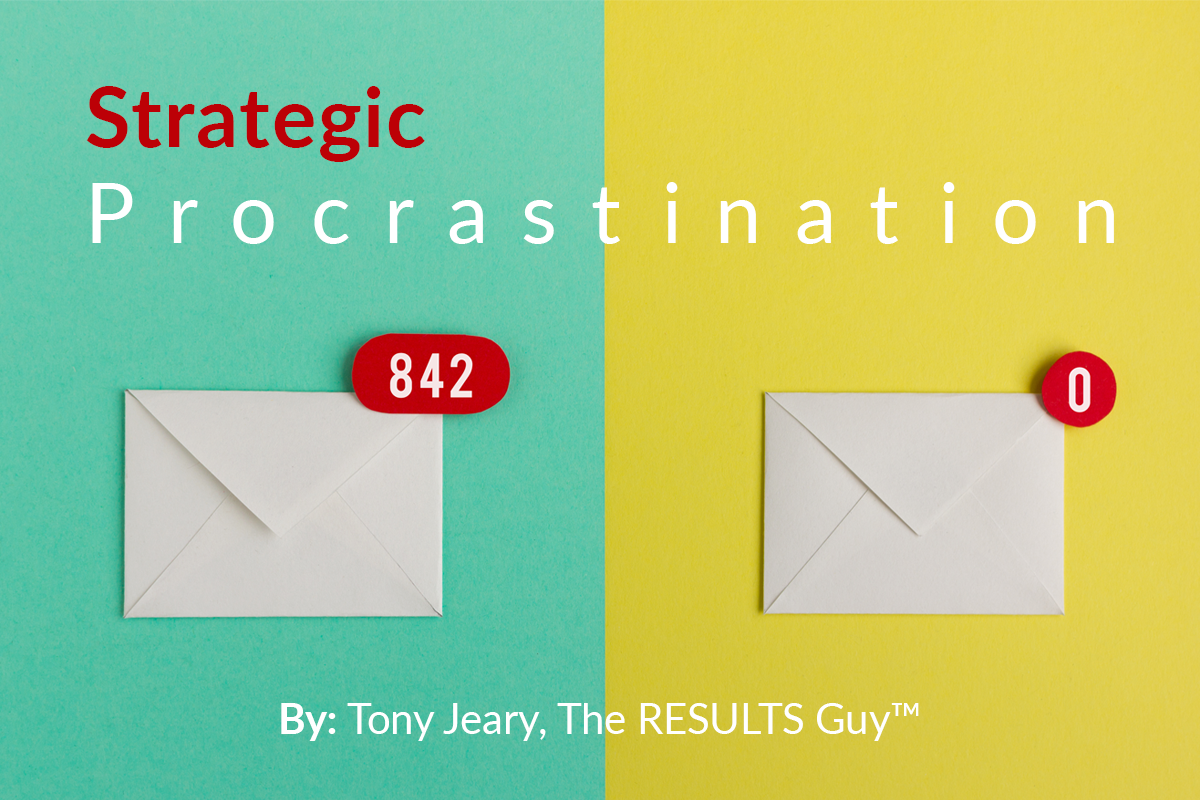 When you first hear the word procrastination, do you attribute positive or negative emotions to this word? Many of us probably attribute negative emotions because we've been taught that procrastination is synonymous with laziness. And we all know laziness doesn't get us to the top.
Today, I want to challenge your thinking with this statement: Many of my life's successes can be attributed to strategic procrastination.
If you noticed, I included the word strategic before procrastination. That is because doing things strategically is powerful.
Many of my clients ask for advice on the topic of time management, which includes procrastination. This is why I compiled a list of my top 10 strategic procrastination secrets to help you get the right RESULTS Faster. This can be applied for you personally or for your business.
Top 10 Strategic Procrastination Secrets
Secret 1: Positive & Negative Procrastination.

Not all procrastination is bad. Sometimes you want to intentionally delay a decision so you can prioritize more important ones.

Secret 2: Self-Talk.

What you say is what you get (same with what you do and don't do). Take a step back from your thoughts. What are you constantly thinking about? If it's clouding your mind from focusing on the end result, get rid of it.

Secret 3: Mindset.

Just do it! This is what makes winners win…just ask Nike. Once you've cleared your mind of things that are getting in the way of your goal, go full force on the task at hand.

Secret 4: PBP (Production Before Perfection).

Perfectionism can kill your momentum if you aren't careful. When someone experiences writer's block, what are they supposed to do? Start writing and forget if it looks pretty or not. Go as far as you can see, then you will be able to see further.

Secret 5: Tools.

Mockups, samples, sketches, outlines, plans, models…Use these tools as a step toward your end goal. This creates momentum and motivates you to keep moving forward.

Secret 6: Support.

Get other people on your team who will cheer you on toward your goal. You want these people to be "can" people, not "can't" people.  

Secret 7: Delegate.

Avoid the excuse that you don't have the capacity to take on a task or complete a task on time. Build great relationships with experts who can accomplish tasks on your behalf.

Secret 8: Roadblock-Busting.

Always think ahead. Think of what could hold you back from taking action and bust this roadblock ahead of time. This could be downloading an app, buying two printers, storing extra supplies, having a backup resource, sleeping, staying healthy, building reserves or blocking out margin time on your calendar.

Secret 9: Pain.

Have a powwow with yourself and discuss the pain that will be caused if you don't act now.

Secret 10: Benefit.

Clearly define and visualize the benefits of accomplishing your goal. Think of the short and long-term benefits, and use this as "pulling power" to keep you going.
Now, make a list of your top priorities to reach your biggest goal. Don't just think of things you want done so they are no longer on your plate, list items that must be done in order for you to accomplish this specific goal. Once you've identified these items, delegate what you can and start making headway on the others…no matter if you feel prepared or not. Remember Nike's famous advice…Just Do It!